Booklets

Download this free e-booklet by Dr. David Miano on the importance of ancient history in the modern world. It's only 16 pages, but puts in a nutshell why the study of ancient history is far more than just a hobby. Send to your friends or family to arouse their interest in this fascinating subject!
Books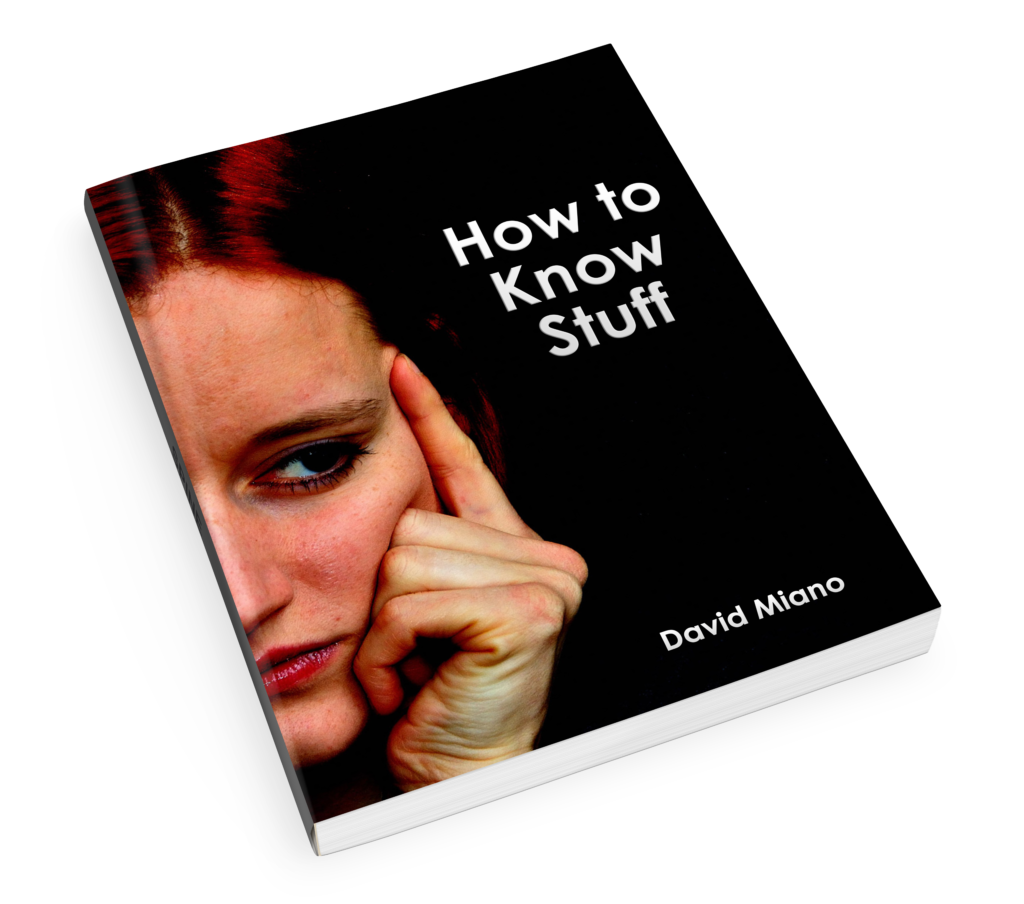 An indispensable volume for knowledge seekers, How to Know Stuff, provides some tips for all those who are interested in being better-informed people, who want to have a handle on the facts of any subject of their interest. Dr. Miano offers advice on how one can make their way through the mixture of reliable and unreliable information we are bombarded with each day.

Written for a scholarly audience, this book tackles the subject of chronology and chronography in ancient Israel. A revision of Dr. Miano's doctoral dissertation, Shadow on the Steps explores the various ways the ancient Judahites of the Monarchic Period (c.1000-586 BCE) measured time. The Hebrew Bible, the chief source of information for Israelite time-reckoning during this period, contains large amounts of chronological data from many different sources. These are found, for the most part, in the Primary History (Genesis-2 Kings) and the book of the prophet Jeremiah. Previous studies of this kind have tended to treat the material homogenously, as if all the data were derived from a single source and reflected but one system of time measurement. This approach, however, has yielded intractable paradoxes. This study, in contrast, attempts to determine the various sources behind the chronological data in these books and assesses each of the sources on its own terms.

Designed for classroom, this text will be of interest even for the general reader, who wishes to get a taste of various writings from the ancient world, from East to West. Collected, curated, and edited together with explanatory introductions by Dr. Miano, this anthology contains primary sources dealing with weighty topics such as politics, history, social theory, gender issues, and law. Great to have at your bedside table!

In this fascinating anthology, Dr. Miano helps you understand the world of the ancient Egyptians by introducing you to texts that the ancient Egyptians themselves composed. Beginning with The Old Kingdom in the third millennium BCE, the book covers 3,000 years of history, progressing through the Middle Kingdom, New Kingdom, Late Kingdom, Persian Period, and ending with the Ptolemaic Dynasty in the first century BCE. The primary sources in this text cover a broader spectrum, both temporally and geographically, than other ancient Egyptian readers on the market. You will learn about the Egyptians' political ideas, social customs, religious views, economy, ethics, and forms of expression. The material includes documents written not only by the Egyptians, but by those who observed them as well, which will give you a well-rounded view of the Egyptian people, their history, and their culture.

For the Christian history buff, The Early Church Historians contains English translations of what may be the three most important histories of the early Church: those of Eusebius Pamphilus of Caesarea, Socrates Scholasticus of Constantinople, and Evagrius Scholasticus of Antioch. Written between the fourth and sixth centuries A.D., these works provide a continuous narrative of ecclesiastical affairs from the time of Christ until 593. The histories are rich with tales of controversy, persecution, intrigue, and the famed deeds and misdeeds of early church figures. In addition to their own merit as pieces of classical scholarship, these writings contain excerpts from many ancient works now lost. Dr. Miano has prepared explanatory footnotes, maps, and a glossary of important names and terms to provide important background information and enhance comprehension.
Articles